We tell you what finishes, furniture, plumbing and a color palette to choose for decorating the bathroom next year.
The bathroom from the sanitary-hygienic premises turned into a full-fledged room with its own design solutions, furniture and decor. The modern bathroom design ideas in the photo in 2020 dictate one thing - by all means avoid a boring interior, making it a cozy space for life.
Bathroom design in 2020
Fashionable bathroom finish in 2020
The trend for naturalness has also touched on finishing materials, so choose a finish with the texture of wood, stone, marble, concrete or even metal - modern tile perfectly imitates all this. The rougher and unprocessed texture, the better.
Also at the peak of popularity remains marble. With it, you can create both a strict minimalist interior and give the bathroom a chic. For example, combine marble in wall decoration, stucco molding on the ceiling and complement the interior with exquisite details.
The trend is gaining popularity: a small narrow tile. It looks like a mosaic, visually makes the ceiling higher and creates an interesting texture on the wall. A nice bonus - when laying, you do not need to adjust the elements to size.
Furniture
The bathroom, as a rule, does not differ in large dimensions, so square meters should be used with maximum benefit. Place shelves in the corners to store small items and bottles with shampoos and soap. Use hinged structures - cabinets that can be hung over a sink or toilet.
Plumbing
Finishing is the background, and the main role in the bathroom is assigned to plumbing. In 2020, its design is becoming more concise. Up to the point that faucets and toilets are increasingly mounted on the wall, refusing legs. It is not only outwardly attractive, but also practical. Less dirt is collected under the hanging toilet and the floor is easier to clean, and there is no limescale from the tap on the tap.
An interesting move is to place the mixer on the side of the sink. It looks fresh and unusual. Plus, it's practical. If you have a narrow cabinet or table top, this arrangement of the crane will save space.
Take a closer look at the showers at floor level, without a nut. It is not only fashionable and beautiful, but also convenient: the seal is located at the bottom of the pallet and provides reliable tightness.
Also relevant models of plumbing made from natural materials, such as sinks made of solid stone. Not budget, but environmentally friendly and very stylish.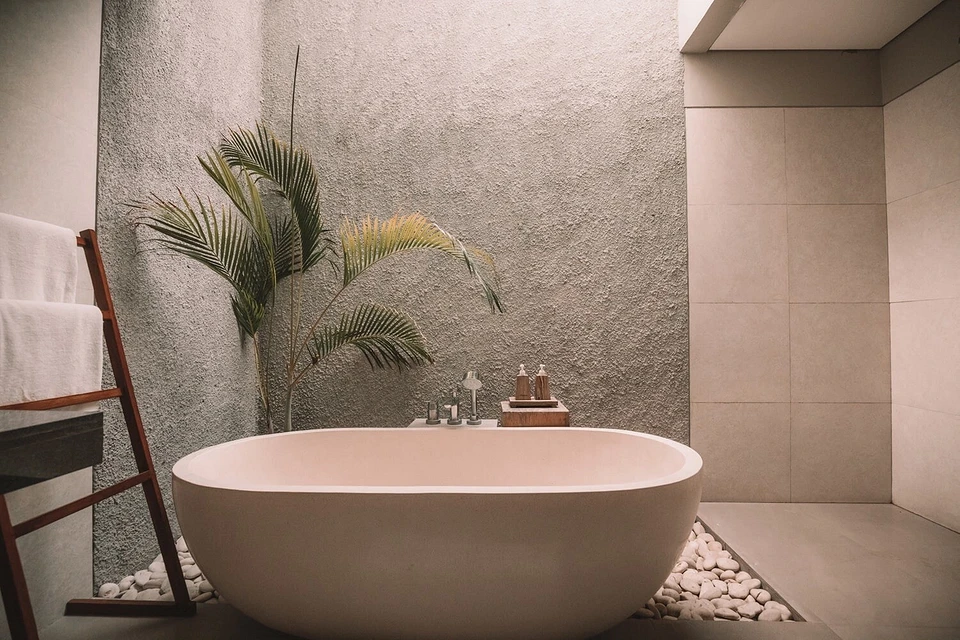 Lighting
In the design of the bathroom in 2020, as in the whole apartment, it makes sense to think through several lighting scenarios. The brightest area should be at the mirror: most hygiene procedures are carried out there. Spotlights can be placed on the ceiling, and a wall lamp can be hung at the bathtub, thereby increasing lighting for hygienic procedures or reading, for example.
Actual colors and combinations
We list the shades and combinations that should be guided when choosing finishes, furniture and decor.
White
White is relevant as a dominant color, it perfectly acts as a background for brighter tones. The interior in white is associated with cleanliness, so it is chosen very often. Emphasize purity of white with bright furniture, bright accessories, or contrasting black - for example, in details (faucets or furniture handles).
Gray
Gray is no longer synonymous with despondency and longing. This is a fashionable basic shade that can smooth or highlight the desired companion color. The space, decorated in gray tones, will look relevant for more than one year. All shades of gray can be combined with blue, green, brown, white.
Black
Black looks deep, luxurious and elegant. Today, everything is available in this color: plumbing, decoration materials, furniture novelties. If desired, you can put on a bathroom in the style of total black.
Brown
The variety of brown shades is great: olive, clay, terracotta, bronze, rusty, a shade of dust, stone and wood - you can list for a long time. They look especially relevant in connection with the popularization of eco-interiors. In addition, brown looks great in classic bathrooms.
Green
Green is a trend color, it creates an excellent mood and makes the space harmonious. Biophilia (love of the living) is a trend that has captured the world of design in the past few seasons, which just dictates the use of shades of green. In the bathroom, you can not only paint the walls in this color or put green tiles on the floor, but also add indoor plants, turning the bathroom into a mini-jungle.
Blue
Blue can be used for wall decoration (today blue marble is gaining momentum in the world of design), choose such a palette for plumbing. As a companion to blue, you can choose sand - the perfect combination for Scandinavian interiors. You can also replace blue with black if you want to experiment.
Gold
If you want to add some luxury to the interior, gold will help. Gold accents need to be used carefully. Companion colors can be black, dark green, white and blue.
The combination of black, white and gold creates the feeling of a cozy and balanced-luxurious interior. Black can be used as wall decoration, white in plumbing, and gold can be added with accessories, such as gilded picture frames or mirrors on the walls. A very active palette that looks cool in traditional and retro interiors.
Pastel colors
Pastel shades (dusty pink, pale blue) are mainly used for plumbing and wall decoration in the bathroom. The pastel palette is good for small areas, it visually expands the space. Try a combination of pastel colors and gray - such a nice neutral palette will be relevant for bathroom design in 2020.
Gray beige
The gray-beige shade received a special name - gray (from the English greige). Ideal for loft, vintage, minimalism. Extremely harmonious and complex color. If mixed with blue, the interior will be cooler, and in combination with brown, on the contrary, warm.